Key Highlights
While Excel provides flexibility for font and text formatting, there is not an efficient way to apply the proper formatting when it is needed.
Macabacus can help through the use of shortcuts to apply font styles, font sizing, font coloring, and more in an efficient way.
If you're a finance professional who regularly uses Microsoft Excel, you know how important proper font size and styles can be to communicate complex financial data effectively. In this blog post, we'll walk you through how you can ensure your fonts are correctly formatted with native Excel workflows and how Macabacus can help you accomplish the same formatting but save you much more time.
How to Format Text in Excel
Without Macabacus, formatting text in Excel can be time-consuming and inefficient. There are a couple of ways you might do this natively, but by far the quickest way involves the following steps:
Select the cells you wish to apply the new font formatting.
Navigate to the "Home" section of the ribbon.
Select the text formatting you wish to adjust (font, font size, font color, fill color, etc.).
Click on the new formatting style you wish to use.
Repeat the steps above for each text formatting property.
While Excel provides great flexibility for formatting, there is not an efficient way to change and apply text formatting without using a long string of accelerator keys or taking the steps above with your mouse. With Macabacus, you can quickly change the font, font size, font color, and more with simple keyboard shortcuts.

Start your Free 30-Day Trial today and use 100s of custom shortcuts from Macabacus.
Steps for using Macabacus to improve font formatting in Excel:
Font Style Cycle: Select the cells containing the text you want to format and hit the keyboard shortcut "Ctrl + Alt + O" to cycle through different font styles until you find the one you want.
Font Size Cycle: To quickly cycle through font size options, select the text you want to format and hit "Alt + Shift + G".
Font Color Cycle: Efficiently cycle through different font color options. Select the text you want to change and hit "Ctrl +".
Adjust Font Size in Small Increments: To make small adjustments to your font size, use the keyboard shortcut "Ctrl + Shift + F" to decrease font size and "Ctrl + Shift + G" to increase.
Customize Font Settings: To adjust your font settings, go to the Macabacus section of the ribbon and click "Settings > Configure > Fonts" to access the font settings. Here, you can add new fonts, adjust font sizes, and more.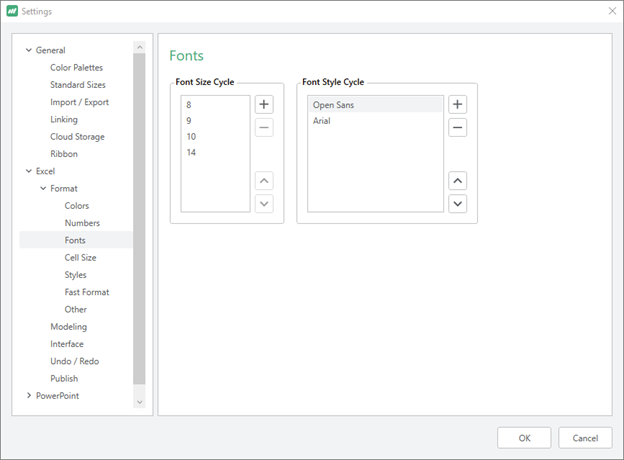 By using these shortcut cycles in Macabacus, you can save time and improve your workflow when formatting text in Excel. Not only will you be able to work more efficiently, but you'll also be able to communicate your financial data more effectively with well-formatted and brand-compliant documents.
Make Formatting Easy with Macabacus
We've seen the importance of text formatting in Excel for finance professionals, the inefficiencies of manually formatting them, and the time-saving benefits of using font style, size, and color shortcuts with Macabacus. If you're ready to save time in your work, download a free trial of Macabacus today!